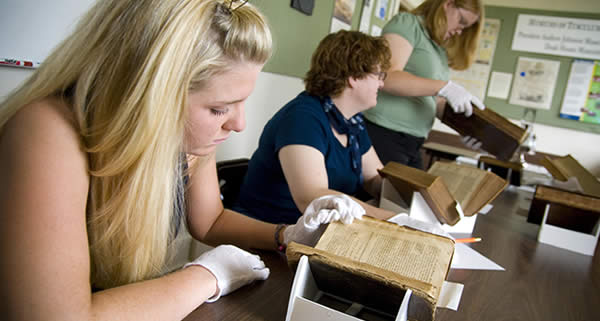 The Museum Studies Program operates two museums and the Tusculum College archives through which students gain valuable experience.
Museum Studies encompasses the study of museums, museology, and the development of the skills necessary for professional museum practices.
The success of a museum requires the combined skills and knowledge of a variety of museum professionals and the participation and contribution of volunteers and trustees.
In addition, a museum's success is a result of the contribution and participation of the audiences and communities being served by the museum.
The Museum Studies Program at Tusculum College provides students with the academic training and hands-on experiences to become museum professionals. Students develop an understanding of the important role of museums, and they acquire the skills and knowledge to serve their communities as museum administrators, curators, and educators.
As a result of their learning experience, students are prepared to assume positions of responsibility in museums and other not-for-profit organizations. A primary focus of the program is to prepare students to work in museums with a small staff of paid or volunteer professionals. The program also prepares students who choose to continue their professional development at the graduate level.
The Museum Studies Program operates two museums and the college archives through which students gain valuable practical experience. The Doak House Museum, home of the College's co-founder, hosts over 10,000 school children a year and focuses its interpretation on the history of education, as well as the social and religious history of the period. The President Andrew Johnson Museum and Library is located in the "Old College". This 1841 academic building houses personal artifacts of the Johnson family and Andrew Johnson's personal library. Old College also serves as the repository for the College archives. Selected artifacts from the collections are kept on exhibition in the museums.
Tusculum College, founded in 1794, has a history of providing educational experiences that relate student learning to the community-at-large. Through its curriculum grounded in the Civic Arts, the Museum Studies Program and its two museums builds on the College's academic traditions and trains students to become professionals to work in museums which serve their communities.